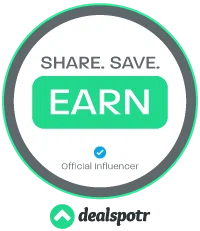 I love shopping. The thrill of finding a good deal makes me love it even more. I have been a long time user of discount sites and I am a subscriber to the newspapers so I can get my weekly ads. The bad thing is that I literally have to weed through all the junk to get the stuff I really want or can use. Between junk emails, mailers, advertisements, promotion websites, etc it is hard to keep up and I know I am missing out on a lot. Missing out on a good sale or good deal will make this one cranky mama!!
I was recently introduced to
Dealspotr.com
by a friend and I have been really impressed with this page. When I first signed up I was able to select the kind of things I am most interested in for deals. It gets pretty detailed. Once I selected my interests and needs, my home page or "feed" popped up. I was so impressed with how tailored the deals were for me. I actually saw an awesome deal I immediately snagged within the first 5 minutes of setting up. You see deals for stores you shop based on your preferences and also online deals. You can even search for deals. One I use regularly is for pizza. I have kids and they pretty much live on pizza if I let them. The website is super easy to use. You can browse your "feed" with deals or do a specific search. Also if you find a deal you want to share you can post it for others to see. Sharing is caring people!
The Dealspotr.com had definitely helped me find ways to save. This is especially important during the holiday season where every penny needs to be stretched.