Merlot Skin Care Review and Giveaway
Every Merlot product boasts the benefits of natural grape seed antioxidants. Merlot products are free of fragrance and great for sensitive skin. Merlot products are made in the USA and Merlot conducts no animal testing.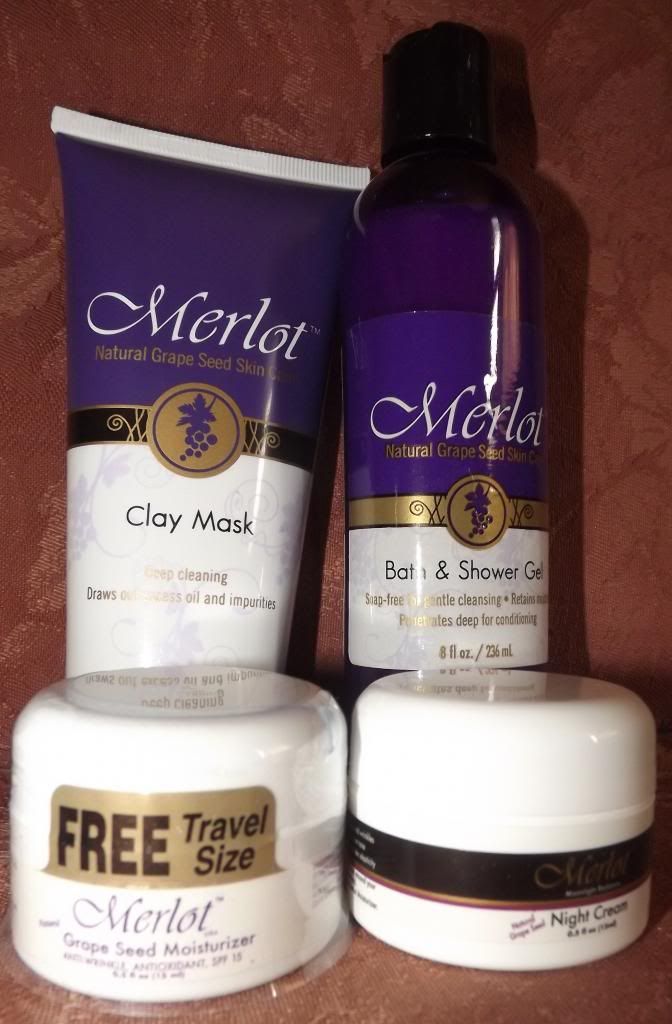 I received the Clay Mask, Bath and Shower Gel, Moisturizer and Night Cream to try in exchange for my honest opinion.
My Reviews

I love trying new skin care products, I have plenty of skin care issues so I'm always looking for relief and solutions to my issues. The first thing I noticed about these is how good they smell! They don't smell mediciney or chemical like. They smell like grape! I love that. I've been using the Bath and Shower Gel for a few weeks and I love the way it makes my skin feel. My skin feels soft and smooth and the scent lasts awhile, I like that too.


I had my mom try the night cream, she really likes stuff like that. She likes this product, her skin looks younger and smoother, and of course she likes the scent lol. She wants to buy a bigger jar and keep using the product.


I kept the Grape Seed Moisturizer for my self. Very happy with this also! I think it's cute that it's purple. Love the scent of course. It has a really nice consistency, and rubs in completely without being oily on my skin. My hands feel really soft. I was actually kind of worried it would make my skin look purplish, but thank goodness that was an unfounded worry lol.


The Clay Mask made my face look and feel so nice. With summer coming I'm going to make sure I keep some of this on hand! My skin always gets worse in the heat and humidity.


I'm so happy with all these products! I will definitely be buying more from Merlot Skin Care!
Sign up for the newsletter to get discounts and special offers
---