American Lighthouse Cookbook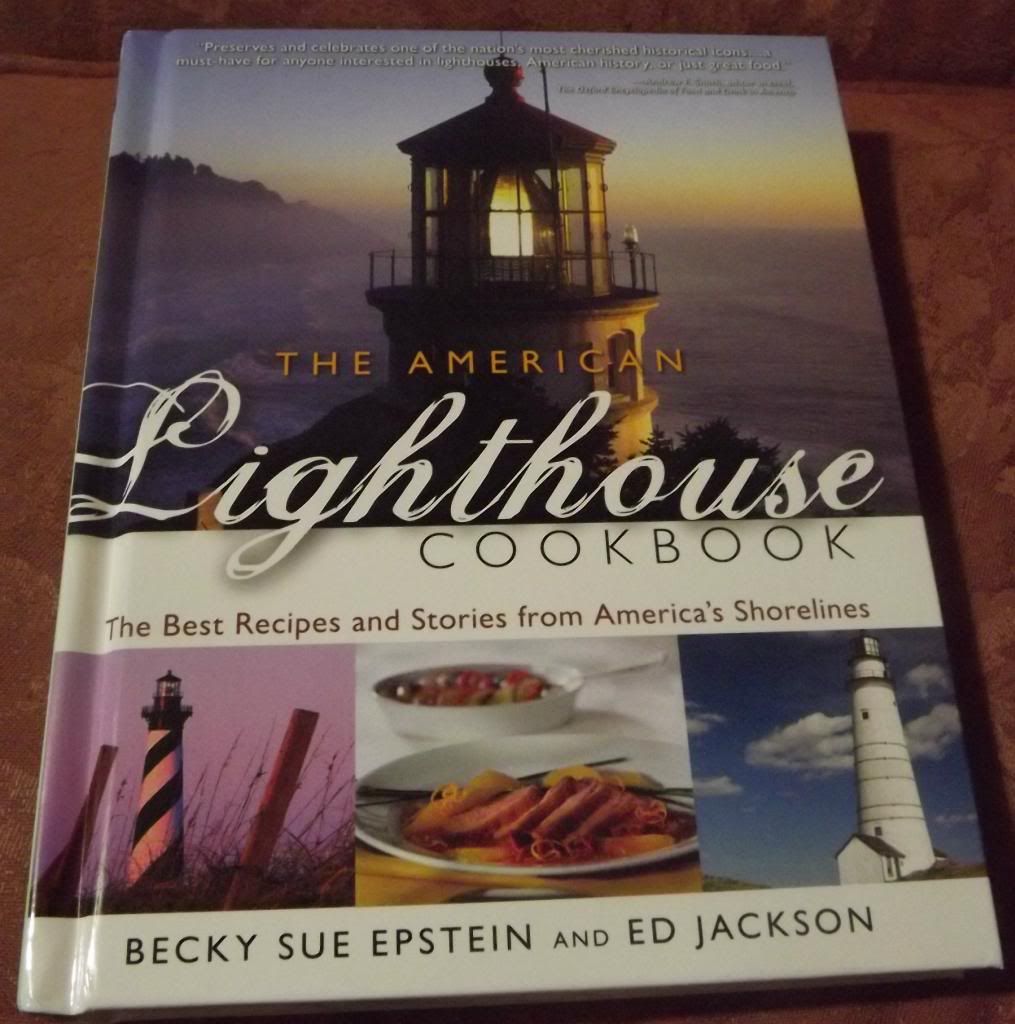 You are invited on a culinary journey across America to visit 47 lighthouses, read dozens of short stories about them, and sample more than 300 recipes from eight coastal regions of the United States The American Lighthouse Cookbook celebrates the local cuisines that have long been the staple of lighthouse keepers. Arranged geographically in eight regions of America, the lighthouses were chosen for their interesting backgrounds and stories. Following the story of each lighthouse is a menu for a modern-day lighthouse meal.
You can see the Index of recipes here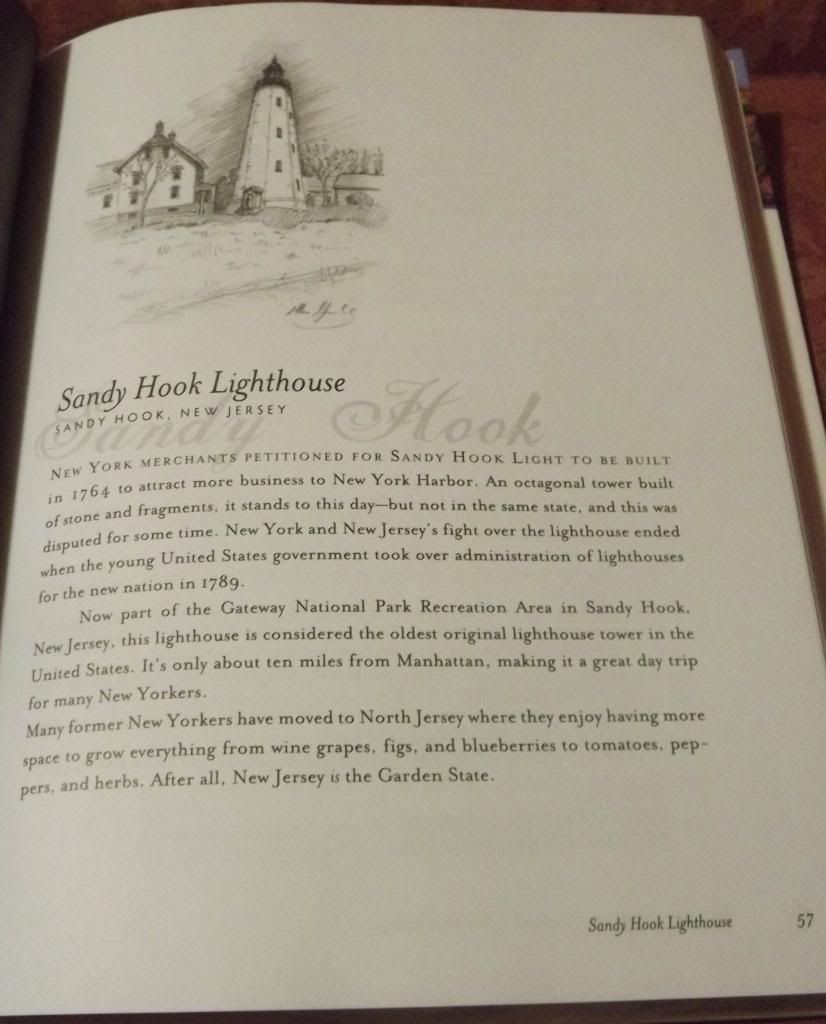 Each section has beautiful pictures and short stories about the lighthouses…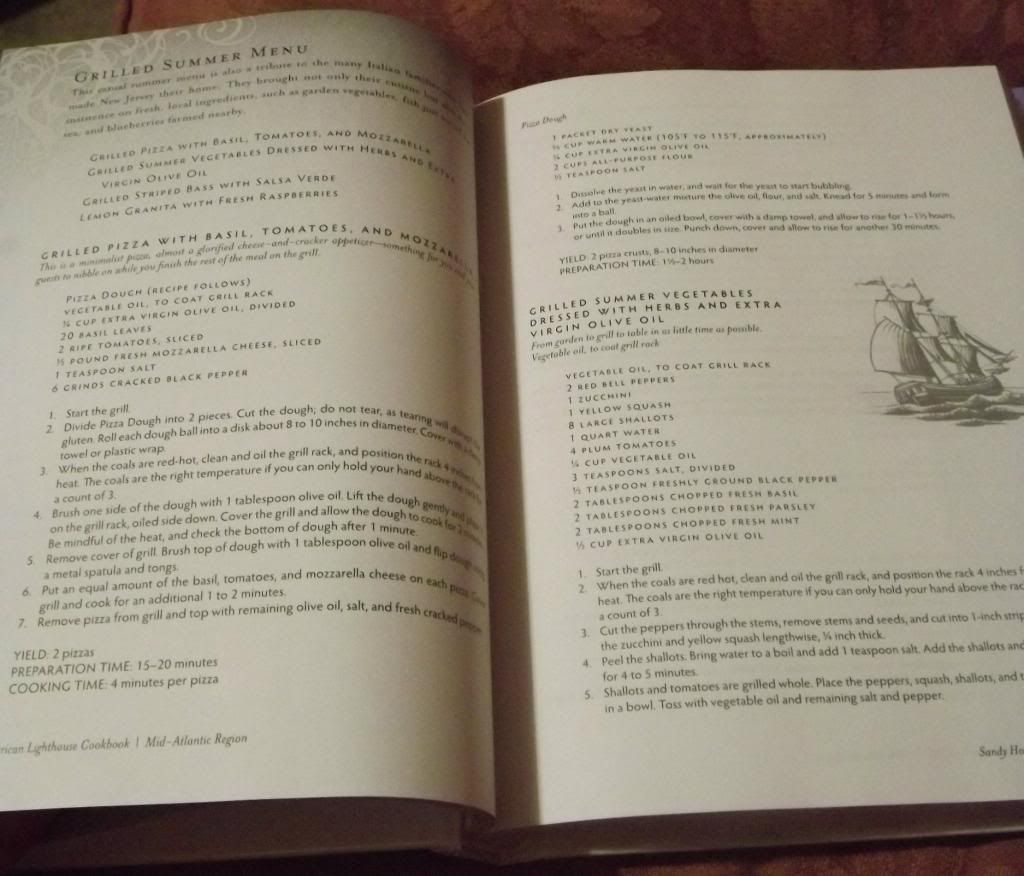 Each section then has several recipes from that coastal region…
My Review
My dad is obsessed with lighthouses. He LOVES them. So I knew I had to get this cookbook and share it with him. We both love the drawings and the stories through out the book. The recipes range from mussels with tomatoes and herbs to vegetable dishes to chocolate fudge cake. There is something for everyone to try and fall in love with. My husband loves all the seafood recipes in this cookbook and has a list a mile long of ones he wants to try lol. This is going into the cookbook collection for sure…when my dad doesn't steal it that is lol.
Here's the chocolate fudge cake recipe…yummy!
Chocolate Fudge Cake
Grosse Point Lighthouse, Illinois
This is a brownie-like cake that's great for anyone with a sweet tooth.
2 cups cake flour
1 teaspoon baking soda
1 teaspoon baking powder
½ teaspoon salt
2 ounces sweet baking chocolate
2 ounces unsweetened baking chocolate
9 tablespoons butter, softened, divided
1⅛ cup sugar
2 extra-large eggs
2½ tablespoons apple cider vinegar
Cocoa Frosting (recipe follows)
1. Preheat the oven to 325ºF. Butter 2 (9-inch round) cake pans with 1 tablespoon of butter.
2. Mix the dry ingredients in a bowl.
3. Melt the chocolate in the microwave on medium heat.
4. In electric mixer, cream together 8 tablespoons of butter and sugar until fluffy. Add the eggs, 1 at a time, beating well after each addition. Pour in the vinegar and melted choco¬late, and mix well.
5. Slowly add the flour mixture, mixing until fully incorporated.
6. Spread the batter into the prepared cake pans.
7. Bake 30 minutes, or until an inserted toothpick comes out clean. Do not overbake.
8. Unmold the cakes. Place 1 layer so the bottom is facing up on a platter. Spread ¼ cup of Cocoa Frosting on top of this layer. Place the second layer on top so the bottoms of the layers are together, and frost the entire cake with remaining Cocoa Frosting.
Yield: 2 (9-inch) cake layers
Preparation time: 15–20 minutes
Baking time: 30 minutes
Cocoa Frosting
3 cups powdered sugar
2 tablespoons butter, softened
1 teaspoon vanilla extract
¼ cup unsweetened cocoa
2–4 tablespoons milk
1. In an electric mixer, stir together the sugar, butter, vanilla, and cocoa. Add the milk, a little at a time, until the desired consistency is achieved for the frosting.
Yield: About 3 cups
Preparation time: 5 minutes
You can follow Becky Sue Epstein on Twitter
---