Rock N Learn Alphabet Review and Giveaway
Rock 'N Learn
produces
educational videos and music
for fun learning. We now have new
iPad apps for learning to read through phonics
. Our educators, musicians, and animators enjoy creating entertaining
educational DVDs, music CDs
and
iPad apps
used in schools and homes. In our 24 years, Rock 'N Learn has won over 100 awards for educational videos and music to help kids learn
preschool
,
math
,
social studies
,
languages
, and
science
. We also have DVDs to help students boost
test-taking skills
and score high on state-mandated standardized tests. Easy-to-use, these entertaining DVDs and iPad apps get results, as documented in case studies by several school districts. Rock 'N Learn's new
Sight Words DVD
is already getting great reviews on how it helps children learn to read, from preschool through remedial.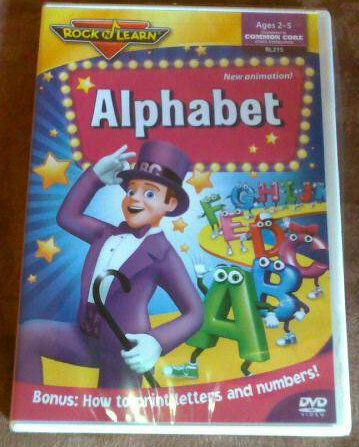 My Review
We got to review another DVD from Rock'N Learn. This time it was the Alphabet DVD. My 5 year old is extremely stubborn when it comes to anything that might be remotely educational lol. We discovered with the sight words dvd though that he really seems to connect with these Rock'N Learn lessons. This was another success for us and him. He has watched the Alphabet DVD a few times now and is doing really well signing along. If he thinks we aren't watching he will even say the letters when they appear on the screen lol. My 7 year old even becomes enthralled with these dvd's and will sit and watch them when they are on. Rock'N Learn is a favorite in our house now for the boys and I can't wait to get more of their DVD's!
Connect with Rock N Learn below!
Twitter
You can also enter to win a DVD of your choice!
---