Read-To-Me Fantasy stories +1 Review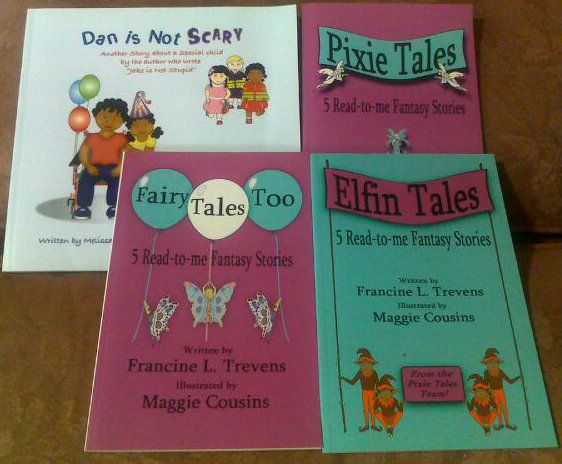 Writer Francine L. Trevens has written a set of 4 Read-To-Me Fantasy books with 5 stories in each book to get younger children interested in reading again.
Pixie Tales
Fairy Tales Too
Elfin Tales
Gremlins, Genies and Trolls Oh My!
*my son ran off with the Gremlins book but it's the same color as the others lol
I also got another book to look at called Dan is Not Scary
My Reviews

Me and my boys enjoyed these books immensely. They love anything to do with the fantasy world. Goblins and fairies and trolls and so on. They loved that the stories rhymed and I loved that there was a little lesson to be learned in these stories. Each book has 5 stories within the theme of that book. My older son read them to himself and to his younger brother and we also read them together. The illustrations are beautiful also and really bring the tales to life.


The other book we received, Dan Is Not Scary was also a wonderful book! My boys are familiar with wheelchairs and people who are disabled because of family members. For children who may not encounter wheelchairs and disabilities on a daily basis this is a really great way to introduce them to the subject.
The Read To Me books can all be found on Smashwords
Dan is Not Scary is available on Amazon
About the author
A published writer for over 60 years, became a publisher 17 years ago and a self publisher only 7 years ago. Have 8 volumes of mine in print, and wrote the dinner theater segment of Otis Guernsey Best Plays and the music comedy segment of the McGraw Hill Encyclopedia of World Drama. Co-founder of Greater New York Independent Publishers Association and now its chairman emeritus. Also a member of Dramatists Guild, Independent Book Publishers Association and theater's ATPAM.
---