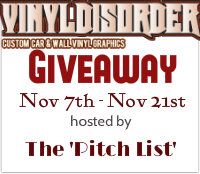 I got the Glow in the Dark Star Vinyl Decal Mural Kit
review.
My boys don't like the dark, and they love anything that glows in the dark. Vinyl Disorder helped us solve the first problem with the bonus of being something they love. They picked out the Glow in the Dark Stars for their bedroom walls. These decals are very easy to apply, stick really well and glow nice and bright in the dark. My boys are very happy with these. These are very nice quality too. They aren't going to fall apart easily or be picked off the walls by little hands lol.
Now you can win a Vinyl Disorder item of your choice by entering below!