Healing In The Hurting Places Book Tour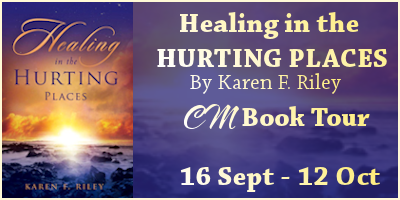 Summary
Healing in the Hurting Places is a personal experience story and outreach for victims of childhood sexual abuse, and those who want to help them. It sensitively focuses on the healing journey—how to recognize symptoms of abuse and offer help. Victims often feel alone, they don't know where to turn or may believe no one will understand. Karen Riley speaks to that place of pain and takes you on the healing journey that transformed her life.
Excerpt
To Whom It May Concern:
I am a victim of childhood sexual abuse. I thought I was doing pretty well, but now I feel like I have just hit rock bottom and don't know where to turn. In praying about it, I discovered your support group online and hope that you can help me. Thank you for your time; I look forward to your response.
Karen
Karen, believe me, you are similar to many others who join us as far as hitting "rock bottom" before seeking us out. I was the same way. Nevertheless you did reach out – an important point for you to always remember. You are not alone. Here you'll find out that, sadly, there are many others like you. In fact you'll discover that there are many things about you, and your pain and struggles that are not so different than all the other survivors. You are definitely not alone.
Nobody else, no matter how understanding and empathetic, "gets it" like someone else who's been through similar experiences as a child. I can tell you from experience that the first time I said out loud and in front of others that "I am an incest survivor" it was a feeling such as I'd never known. To be able to actually say that without fear of being judged, and without all the shame and guilt I'd carried for so long was a very good feeling. I've witnessed the same thing happen for others here. I hope you get to feel that as well.
One survivor said, "Incest is like screaming but hearing no echo." We try to provide those echoes.
Yours in healing,
Mike
I'm not sure anywhere is a good place for me to be right now. If I didn't have God in my life, I really think I would have committed suicide this afternoon. I'm just really, really not in a good place right now at all…
Karen
In the last month or two you've glimpsed paradise for the first time ever. Even now I bet it's a tiny bit easier for you to understand what happened to you. You also have, albeit briefly, touched a freedom from your haunts and pain. The beauty of that freedom, and that paradise, is overpowering at first, and naturally stands out in very stark contrast to the ugliness of the abuse. Your eyes, and your thoughts, are drawn to the unimaginable difference between the two. It's not the ugliness of the past that draws your attention; it's the contrast between it and the future you've just glimpsed. A future, I might add, which is new to your thinking, and unexpectedly within your grasp.
The brunt of the storm your heart has borne would dim the deeds of a hundred men's lives. Don't despair that the clear skies following it are not yet fully overhead. You cannot by force of will, or bold determination, fight your way to clear skies. The clear sky will come to you. Which, I think, is the essence of your faith. Do your best to be ready for it.
Yours in healing,
Mike
I feel like I just blew it. Things were starting to get better and now I'm back on this roller coaster again. I lost it with a friend of mine and blamed her for something that was my fault. She got so angry at me.
When I realized what I had done, I apologized and tried to explain that I am working on not taking things personally and reacting. But she said if I understood what I did was wrong, then I shouldn't have done it.
I can't tell you how upset and exasperated that made me. I wanted to scream at her – Don't you think I want to stop?!? Don't you realize that I'm more frustrated and fed up with all of this than you ever could be??? But now I look back at that as an empowering moment. I don't think for the rest of my life that I will get that look of anger in her eyes out of my head.
So…I have decided to finally get angry at the person who deserves it. I have spent my whole life protecting my family, caring what they thought and felt when they never gave a damn about me. Do you know since I told them what happened, they have never once brought it up, or asked how I feel or am doing?
So I have taken it out on the people around me that I care about – my husband, my kids, my friends. I was blaming them for something that they never had anything to do with.
Today I am going to write a letter and tell them exactly what this has done to me, how I feel. I am tired of tiptoeing around them and then taking my hurt and rage out on everyone else that had nothing to do with it. Is this going to hurt them and crumble their world? Probably. One of the reasons I have held off for so long. But so what? Do they care what it has done to mine?
Karen
Nobody can truly understand how someone could do what was done to you. And to an even greater degree nobody else will ever understand how extensive the damage was to you. They all do understand, however, the effect its disclosure has on their lives. And so it is understandable that they wish it would all just go away.
Denial, from their perspective, is both possible and preferable. It may actually have benefits for them. You, and me, and all the rest of us, must always keep in mind that denial – from our perspective – is destructive. It may be possible for their understandable preference for denial to somehow blend with your equally understandable need for eliminating denial. But it may not be possible. Time will tell. Events will run their own course now, and there's little you can do to influence them. Stay true to your original purpose – HEALING!
Yours in healing,
Mike
I have decided to start small. I took Jesus' hand last night and I let Him hold my hand while I fell asleep, to keep the nightmares away, to hold onto a dream of one day being happy again. Some nights, I need to hold it tighter than other nights. Sometimes, He holds it very gently because He knows He can loosen His grip and I am not going to fear that the world will fall apart. Not to care so much what others think or expect of me.
One night, I was supposed to help a friend. In the past, I would have felt it was the right thing to do. It was being nice and all the stuff I've told myself over the years to try to make myself feel good, but deep down, none of it really worked. So instead, I sat in front of the TV and when I felt tired, I went to bed. I am learning to be gentle to myself. I am learning to be true to my feelings. I am learning to care about me and let God love me. Someday, I may actually be happy again.
When I went to the meeting two nights ago, I shared this with them. I found acceptance and understanding. Some of the stuff I said prompted others. At first, we were sharing shameful, hurtful truths that we had buried. Soon, we were sharing crazy stories of nutty things we did to keep from hurting. And we began to laugh, we laughed so hard at each other and ourselves that tears almost flowed. At the end of the meeting, I thanked everyone. I told them when I joined, I never thought that I could talk about the pain of incest and its scars – and laugh – all in the same hour. They understood exactly what I meant. It felt good – all of it.
Thank you for all of your encouragement. Without it, I may have never been able to take any of these steps. And for the first time, I am really believing that all of this is possible…
Karen
This path to recovery we have all chosen definitely has ebbs and flows. Try to make good progress when it's flowing, and fight back as possible when it ebbs. No one can do more than that. No one can expect more than that of you.
Healing will come to you as you are prepared for it. The old Karen went about fixing things by taking action. This is different. You cannot speed or improve the process by force of will or decisiveness of action. Only the openness of your heart to recovery speeds the process.
We all spend lots of time and effort trying to understand why, as children and utterly defenseless, we were singled out for abuse. Who knows why? But you know what? You were also singled out for recovery. Think about that sometimes…
Yours in healing,
Mike
Karen F. Riley has been writing since she was eight years old. She was nationally published at the age of eleven. Since then, Karen has written for newspapers and magazines such as The Asbury Park Press, New Jersey Monthly and The Tri-Town News. She has authored three weekly newspaper columns and four books:
o Whispers in the Pines: The Secrets of Colliers Mills (Published May 2005,
Cloonfad Press)
o Voices in the Pines: True Stories from the New Jersey Pine Barrens (Published
May 2009, Plexus Publishing, Inc.)
o Images of America: The Pine Barrens of New Jersey (Published October 2010,
Arcadia Publishing, Inc.)
o Healing in the Hurting Places (Published August 2011, Destiny Image, Inc.)
Voices in the Pines was a silver international IPPY award winner in 2010 and Healing in the Hurting Places was an Eric Hoffer Award 2012 finalist. Karen has been married to Bill for 32 years and they are the proud parents of three children: Lisa, Laura and Christopher and one granddaughter, Lilyana. They reside in the rural town of New Egypt, New Jersey. After 20 years in the corporate world, in seven different fields and having survived four layoffs, she started her own business. KFR Communications, LLC – a custom graphic and website design company she owns with her business partner, Andrew Gioulis – is now in its ninth year of operations.They specialize in branding and have recently started a self-publishing division to help authors publish and market their books. For most of her life, Karen measured her success by what she achieved in her own strength. Then on July 24, 2005, that world and belief system was rocked when she accepted Jesus as her Lord and Savior. Augustine said, "You have made us for yourself, O Lord, and our hearts are restless until they rest in you." Karen began to understand why God blessed her with the gift of writing and speaking and how she could glorify Him with it. She began writing as a means to deal with the pain of childhood sexual abuse. Today, she heads up a ministry called Healing in the Hurting Places to offer hope to those suffering in the same way. This book is part of that journey. Karen believes that through education, we can stem the tide on the rising epidemic of childhood sexual abuse. She is grateful that her book is touching so many lives and helping people realize that they are not alone and begin their own healing journeys. In 2011, Karen was diagnosed with Stage 4 cancer and given a short time to live. She plans to make the most of whatever time God gives her to continue to be a ripple in the pond and make a difference in others' lives wherever she can. For too many years, she suffered alone in silence and now wants to help others to find their own voices. Karen sees her childhood sexual abuse, bullying and cancer as blessings now. She takes heart in this Scripture: "You intended to harm me, but God intended it for good to accomplish what is now being done, the saving of many lives." (Gen. 50:20) Karen is available for speaking engagements, book talks and signings.
Buy The Book
---