Mía is a Dallas based health and beauty
social selling
company that offers entrepreneurial business
opportunities
for women. Our
natural
health and beauty products are available
exclusively
through our Independent Advisers and online. Mía offers an
innovative
approach to social selling using the power of eCommerce, social networking and personal service behind extraordinary natural
health and beauty
products.
I received 2 products to test...
* Refreshing Foaming Gel Cleanser $19.00
* Perfecting Finish Hydrating Stick Gloss in Caricia $15.00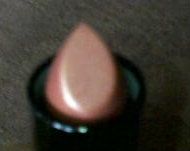 Not a great picture I know but it gives you an idea of the shade...
I've just recently really gotten into a skin care regime and I'm still figuring out what I like and what works. The cleanser is easy to use and has a nice low key scent that's not overwhelming like some can be. It left my skin feeling fresh and soft. The gloss stick is a fairly neutral tone that I think just about anyone could wear. It goes on smooth and doesn't feel heavy and gooey like some lipsticks can. These products are definitely worth the price in my book.