Flying Card Review and Giveaway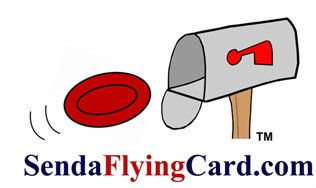 We made the greeting card so much more fun. A flying card is a replacement for a greeting or birthday card, but so much better as it is a flying greeting card on a plastic disc, a plastic greeting card!!! A flying card is a completely customized high quality full-sized plastic disc (approx. 9 1/4 inches round weighing 100 grams) that will be delivered for you in place of a greeting card or invitation, no envelope and no packaging, just the flying card. Send a smile in the mail, it is a card and a gift, all in one!!! You completely customize the flying card for your recipient with your own message (unlike a greeting card) and you can even add a picture for free. Kids and adults love them. Send them a unique birthday card and present today.
My Flying Card
My Review
I've seen tons of different sites and ideas for greeting cards lately. The Flying Card takes the cake though! I know when family or friends send my kids birthday, Easter or Christmas cards, they get looked at for about 10 seconds and then they go in a pile =] My family is big on doing things outdoors, so this is a great idea. You get the sentiment ( Happy Birthday, Happy Easter, Graduation or whatever..) AND you get a cool toy to play with. You can't beat the price of $9.99 and free shipping either! The Flying Card will last years, while a regular greeting card might last a couple months before it's bent or accidentally torn or lost. I'm very happy with this product and I'm glad I got the chance to review this and share it with you, my readers!
a Rafflecopter giveaway
No purchase is necessary to enter. Void where prohibited by law. The odds of winning are based on the number of entries received. This promotion is no way sponsored, endorsed or administered by, or associated with, Facebook and is Facebook-compliant. Winners will be notified by email from a 'Pitch List ' Blog. Winners will have 72 hours to respond or risk forfeiting their prize. Prize fulfillment is the sole responsibility of the sponsor. This blogs participating may not be held liable for Sponsors who do not fulfill prize shipments.
---